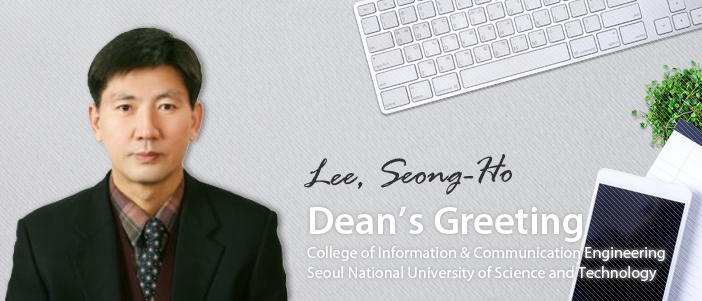 "Dreaming high over the past 100 years, and shining in the next 100 years."Ever since SeoulTech was founded in 1910, it has strengthened its footing and pursued continuous growth. In terms of graduate employment rate, it ranked highest among four-year universities, which produced more than 3,000 alumni from 2009 to 2011, positioning itself as a prestigious academic institution creating market-ready individuals.
The College of Information and Communication Engineering, previously a part of the College of Engineering, became an independent college when SeoulTech was upgraded from an industrial university to a regular university. At the same time, the Department of Electrical Engineering and the Department of Control and Instrumentation Engineering were combined to form the Department of Electrical Systems Engineering and Information Technology. Also, the Department of Electronic and Information Engineering and the Department of Media Engineering were merged into the Department of Electronic and IT Media Engineering (Electronic Engineering Program and Media IT Program), constituting the current three departments and four programs, together with the Department of Computer Science and Engineering. Ever since, the college has become a key player in driving the university's growth.
Our college offers a structured engineering curriculum where students can uncover and develop their potential, passion, and creativity by themselves. With four engineering programs accredited by outside agencies, our curriculum explores the leadership, work ethic, teamwork, and communication skills required from engineers. Every year, 55 faculty members produce exceptional research on commission, worth more than tens of billions of won, which highlights the college's outstanding research capabilities.
In a bid to cultivate global talent, SeoulTech coordinates a wide range of exchange programs with 75 universities across the world. In particular, we have introduced the UH Program, a joint curriculum with the University of Hertfordshire in Britain, where students are awarded a dual degree from both universities.
Also, our university was named one of seven Leaders in Industry-University Cooperation (LINC) by the Ministry of Education, along with six other institutions, such as Sung Kyun Kwan University and Hanyang University in the Seoul Metropolitan area. The program, designed to encourage bilateral cooperation between universities and industries, offers subsidies to participating universities, totaling 170 billion won each year. We expect to be awarded a maximum of 20 billion won from the program in the next five years, which will help us be a leader in industry-university cooperation.
Inaugurated in 2012, the College of Information and Communication Engineering will continue to produce exceptional individuals charged with expertise and creativity, helping Korea reinforce its position as an IT powerhouse.
Thank you.